Music is all around us.  Music forms our heritage, culture, identity and spiritual beliefs.  We have music played at football matches, in shopping centres, churches and on the television.  Music is a powerful medium which can affect us all deeply.  Music can affect our mood.  It may help us to relax when we have had a long day at work or school.
Music therapy is a process through which children and adults can express themselves, become aware of their feelings and interact more easily.  Through making music with the therapist, a range of benefits may be achieved.
The music therapist is trained to improvise music spontaneously with the child or adult.  Through improvised music-making an immediate and personal relationship begins to form.  There are no 'right' or 'wrong' notes in music therapy.  Instead, the person is encouraged to use a variety of musical instruments to find their own personal 'voice' and to develop listening, communicating and relating.
The therapist, a highly skilled and trained musician – accompanies and supports the person in their development.  The therapist listens and responds to the person through the improvised music.  Together the person and their therapist build a shared understanding through their music-making and this informs the aims and intentions for the therapy.  The aims of music therapy are tailored to the needs of each individual.
 Ray Travasso – Music Therapist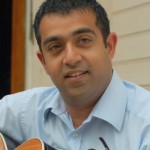 Ray is a qualified and state registered music therapist.  He completed his Masters in Music therapy at Nordoff-Robbins music therapy centre, London in 2002.  Since then, he has specialised in palliative care.  Ray is employed by East Anglia's Children's Hospices (EACH) and St Elizabeth Hospice, Ipswich, Suffolk.  He also provides music therapy for several BUPA carehomes in Suffolk.  Ray has extensive experience in setting up posts across East Anglia.  He also teaches music therapists across the country, including Anglia Ruskin University (Cambridge), Nordoff-Robbins (Edinburgh, Manchester and London).  He also runs placements for trainee music therapists.  Ray is a regular speaker and has presented at international conferences in Cardiff, London and Moscow.  His work has been researched and has also been taken to other music therapy conferences around the world including Argentina and Canada.  He also supervises music therapists across the country.
Website link: http://www.suffolkmusictherapyservices.co.uk